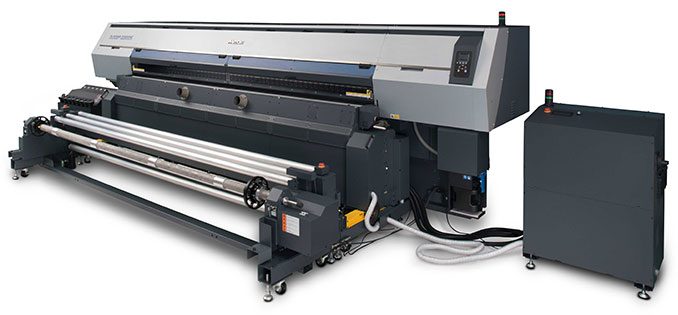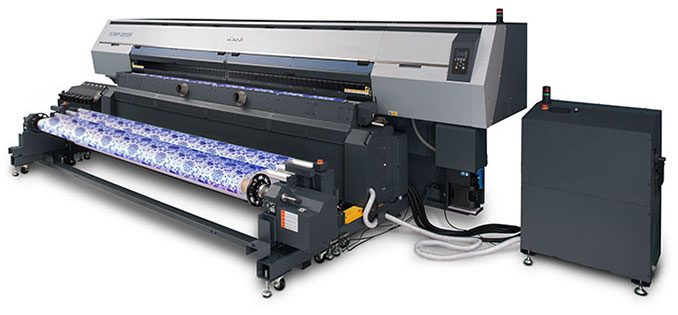 TX500P-3200DS
3.2 m-wide Direct Sublimation Inkjet Printer
The TX500P-3200DS printer significantly reduces production time through its simultaneous performance of two operations, printing and colour fixation, reducing two steps to one. At a print speed of up to 130 m2 per hour, the TX500P-3200DS is ideal for production of samples as well as large lot production with short delivery times. It's uniquely suited for a wide array of textile printing, including soft signage, customised apparel, and fabrics for home décor and furnishings.
| | |
| --- | --- |
| Print speeds at up to 130 m2/hour with 4-colour printing and up to 105 m2/hour with 6 colours. | Unmatched print quality with resolution up to 720 x 1080 dpi using 12 print heads in a staggered 3-line array. |
| Stable quality enabled to its pulling roller that maintains appropriate pressure during printing onto rolled textiles with widths up to 3,2 meters and weight up to 130 kg. | Worry-free uninterrupted print operation with automatic detection and cleaning of clogged nozzles, substituting good nozzles for printing during this process. This allows constant printing and reduces waste due to defective nozzles. |
Create…
Tapestry, Flags, Sports Apparel, Interior Fabrics, Fashion Textile and much more…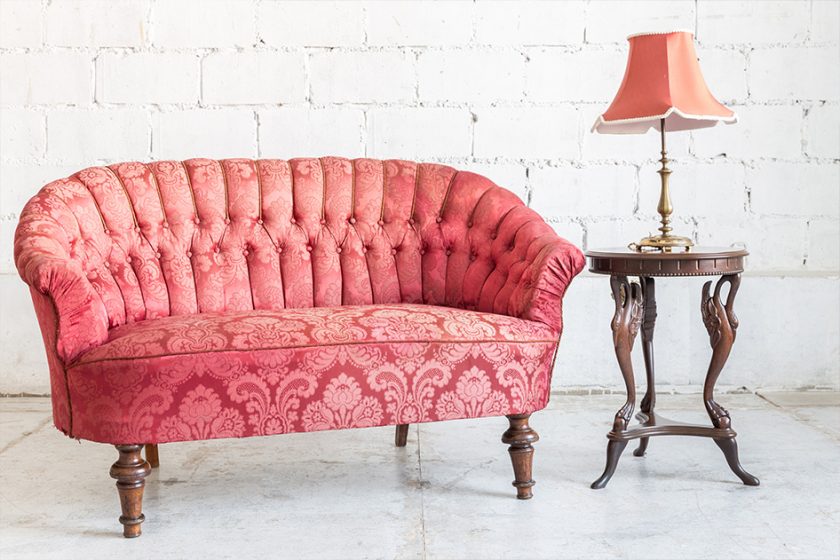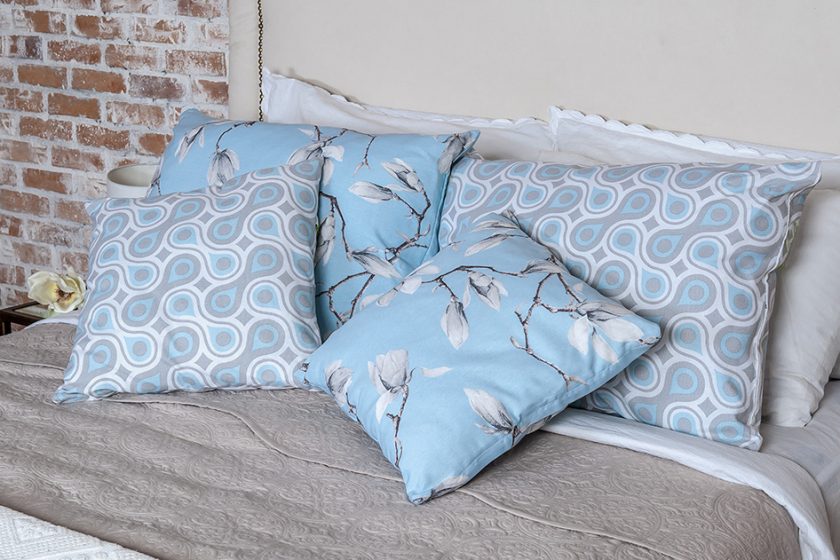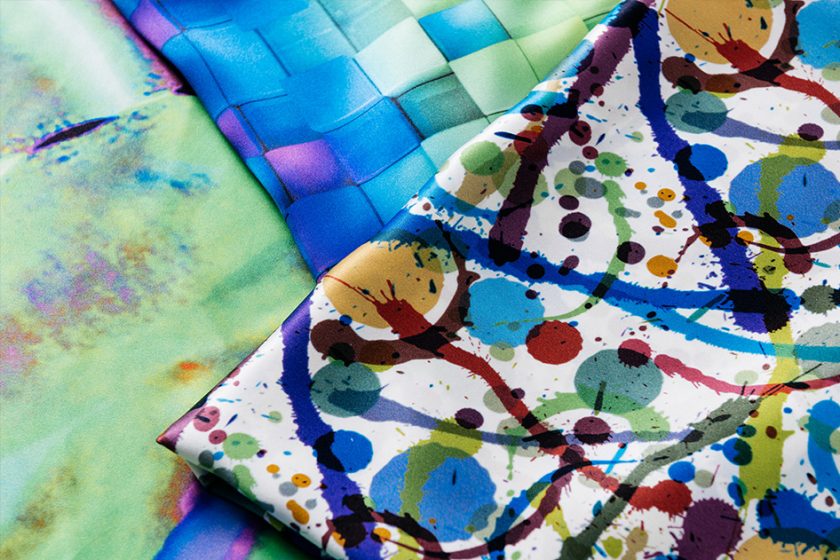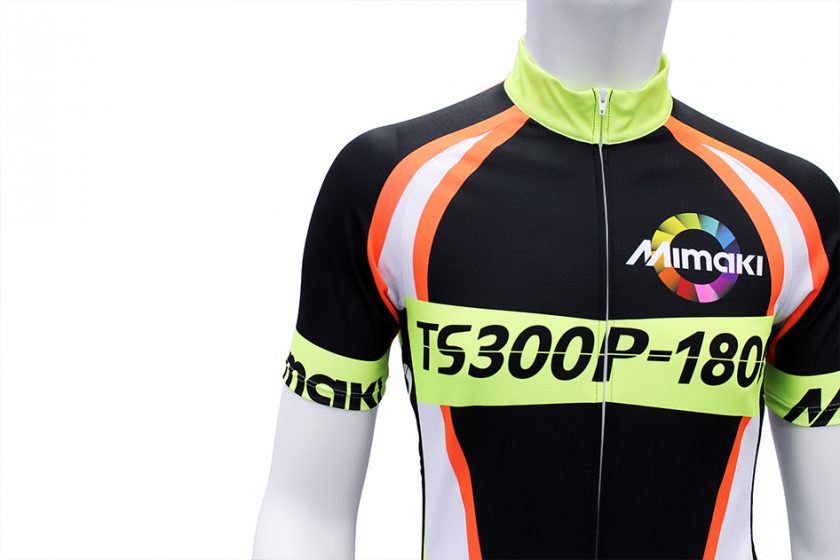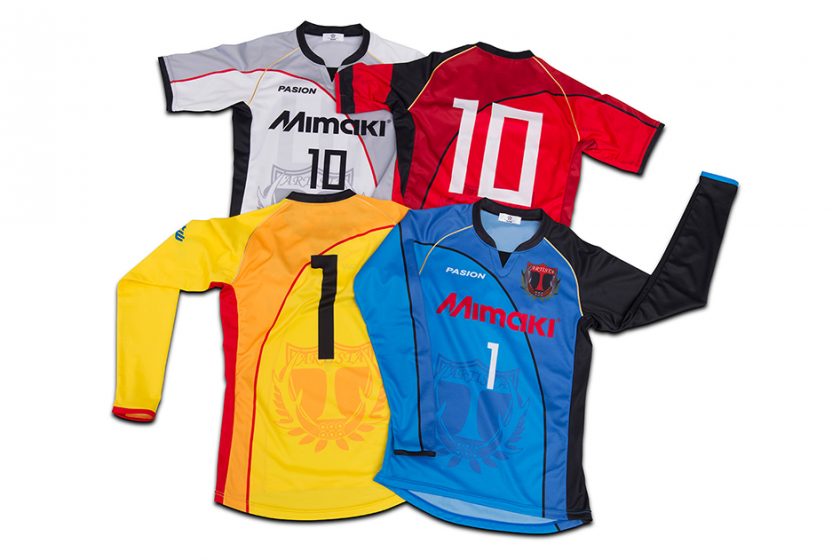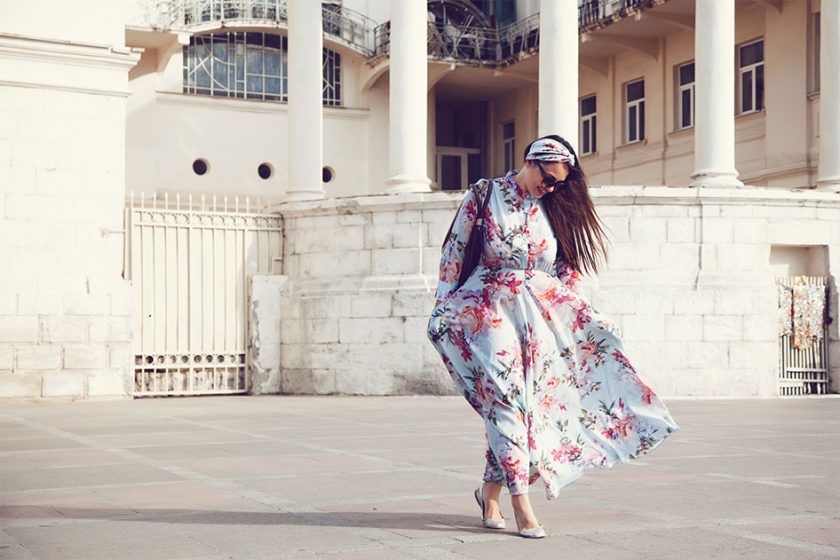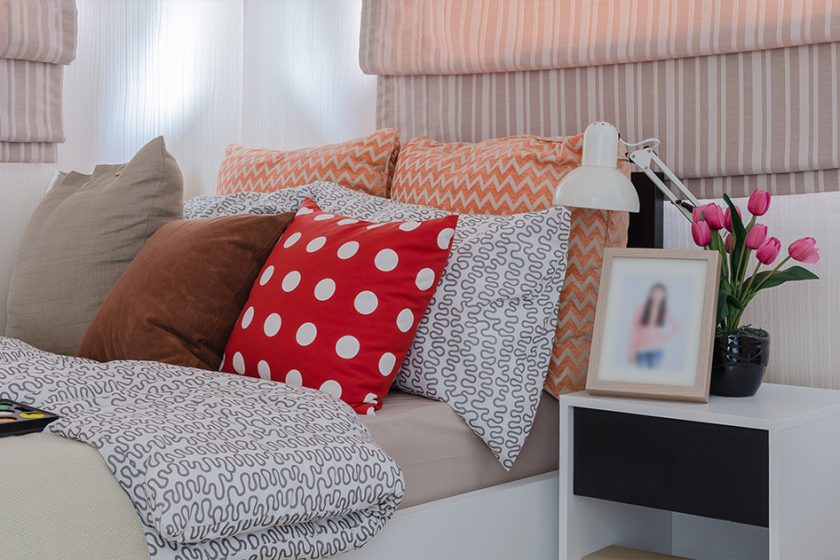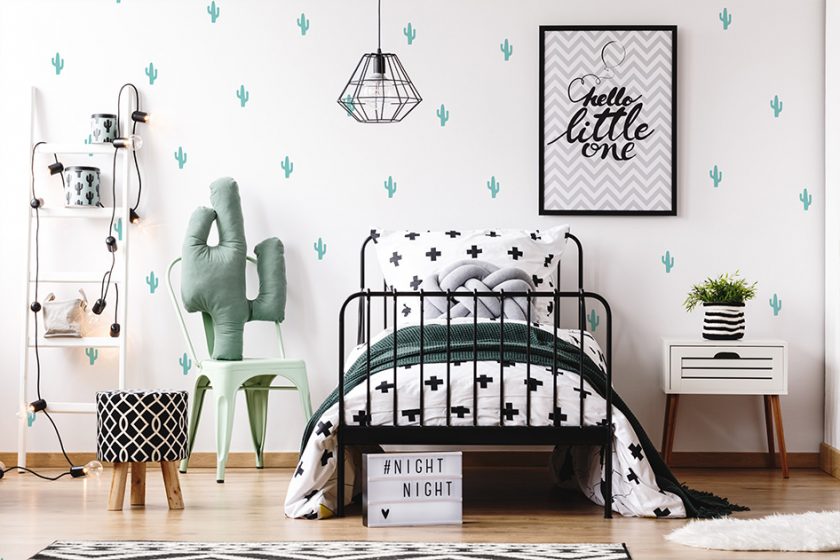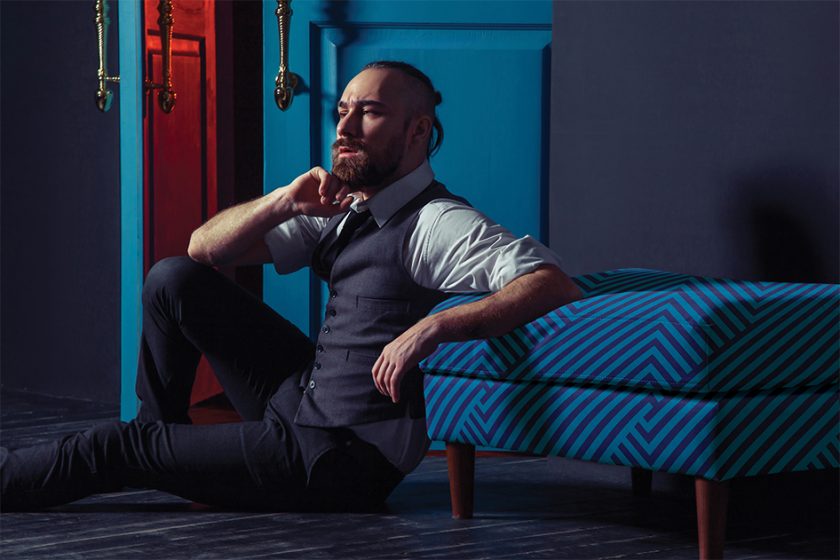 Specifications
Print heads
On-demand piezo head
(12 print heads in 3-line staggered configuration)
Print resolution
Selectable:
X-axis: 360dpi, 540 dpi, 720 dpi, 1,080dpi
Y-axis: 540 dpi, 720 dpi
Maximum print width
3,290 mm (129.5 in)
Maximum media width
3,300 mm (129.9 in)
Media thickness
1.0 mm or less
Roll Weight
130 kg (286.6 lb) or less
Roll outer diameter
300 mm (11.8 in) or less
Built-in Fixation Heater
Temperature
Standard: 180° C (356° F)
Maximum temperature: 200° C (392° F)
Temperature fluctuation: ±5° C (±41° F)
Transportation/ Heating Method
Vertical non-contact heating system
Ink
Type/
Colour
Sb320/Bl, M, Y, K, LBl, LM
Packaging
2-litre bottle
(Large 3-litre ink containers are installed in the ink supply unit)
Ink Set
4-colour: Bl, M, Y, K
6-colour: Bl, M, Y, K, LBl, LM
Interface
Ethernet 1000 Base T /USB 2.0 high speed
Certifications
VCCI class A, FCC class A, ETL UL 60950-1
CE Marking
(EMC, Low voltage, Machinery directive, and RoHS),
CB, REACH
Power supply
Main unit: Single-phase AC200-240V±10%, 50/60Hz±1Hz, 29A or less
Fixation heater: Three-phase: AC200V±10%, 50/60Hz±1Hz, 50kVA or less
Power consumption
Main unit: 7 kVA or less
Fixation heater: 50 kVA or less (When using 200V)
Operational
environment
Temperature: 20–30 °C (68–86 °F)
Humidity: 35–65 %Rh (No condensation)
Recommended temperature range for stable operation:
20–25 °C (68–77 °F)
Allowable range of temperature change: ±10° C (50° F) /hour or less
Dust level: 0.15mg/m2 or less (Equivalent to a general office environment)
Dimensions (W×D×H)
Main unit: 5,620 mm × 3,050 mm × 1,820 mm
(221.3 in × 120.1 in × 71.7 in)
Ink supply unit: 960 mm × 510 mm × 730 mm
(37.8 in × 20.1 in × 28.7 in)
Inverter: 910 mm × 600 mm × 1,240 mm
(35.8 in × 23.6 in × 48.8 in)
Weight
Main unit: 2,390 kg (5,269 lb)
Ink supply unit: 30 kg (66.1 lb)
Inverter: 140 kg (308.6lb)
---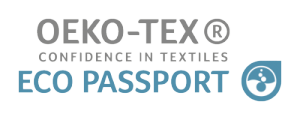 All TX500P-3200DS inks are ECO PASSPORT by OEKO-TEX® certified.


Features of TX500P-3200DS
Printing and color fixation occur in a single printer unit
The Tx500P-3200DS contains a heating device that allows simultaneous printing and color fixation. Further, in order to deliver optimum finish, the printer and the heater units are linked. The printer starts printing when the heater reaches the optimum temperature. This novel feature considerably reduces production time and expands business opportunities by accommodating demands from sample creation to large-lot print production.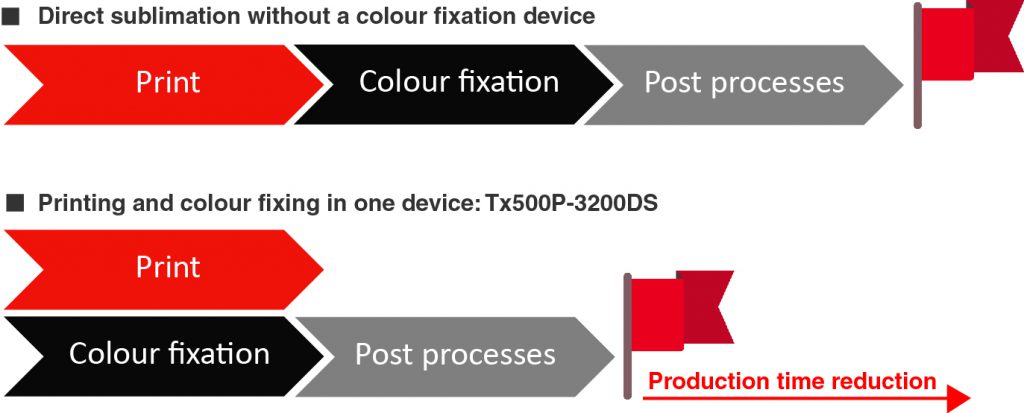 ---
The maximum printing speed (130 m2/h)* enables high productivity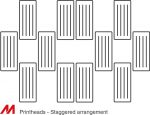 To achieve high printing speeds, 12 printheads are arranged in a staggered 3-line array. A range of printing modes, from a high-speed (130 m2/h) draft mode to a high-quality mode, is available to best suit the required finished print appearance. Tx500P-3200DS can meet the urgent order request, which is most often demanded in the soft sign market.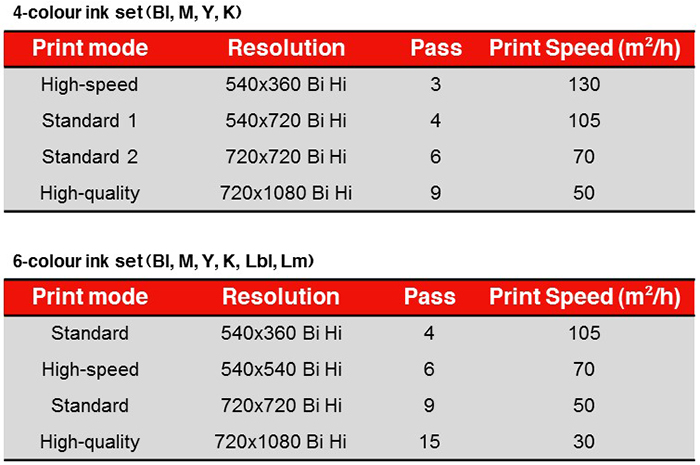 ---
Reliable structure and technique achieves speed printing
Stable textile transportation assures accurate printing
New AMF (*) is installed in the feeding and take-up units to secure the stable textile feeding of the rolled media (width: 3.2 m, weight: 130 kg) and minimize textile shrinkage after heating. Furthermore, a pulling roller smooths polyester fabrics, which have the tendency to wrinkle. These features maintain an appropriate tension in the textile throughout the printing process to deliver excellent print results.
* The AMF applies an appropriate tension to the textile through a tension bar.
Waveform control technique assures beautiful printing
Each ink color has its own specific gravity and viscosity. To achieve precise placement of ink droplets onto the media, Mimaki designed an optimum waveform that allows the printhead to jet each ink color at the appropriate jetting angle without losing high ink droplet circularity even at a high head gap. Moreover, various ink droplet sizes can be precisely placed from a minimum of 6pl to a maximum of 24pl. Small droplets create beautiful high-resolution printing results, while large droplets are very useful for high-speed printing. Thus, Tx500P-3200DS satisfies a wide range of needs including beautiful high-quality printing and productive high-speed printing.
MAPS4 delivers stable high-quality printing
Swath boundaries are generally straight lines; therefore, a slight misalignment between boundaries causes banding or uneven color printing. MAPS4 reduces banding and uneven color printing with blurred boundaries similar to gradation printing.
---
Uninterrupted printing solutions
Ink and media shortage, clogged nozzles, and other minor problems influence stable productivity. The Tx500P-3200DS fully supports continuous printing with reliable technologies.
NCU automatically detects and recovers clogged nozzles
Clogged nozzles are detected automatically by monitoring ink droplets with sensors. When clogged nozzles are located, these are automatically cleaned, reducing waste printing. Nozzles are checked per transfer file.
NRS continues printing operations
If the clogged nozzles are not recovered after cleaning through the NCU function, the NRS selects substitute nozzles and then restarts printing. This is a significant novelty, since previously, when nozzle cleaning fails, the printhead has to be repaired by a technician, and the printing operation ceases until the printhead is repaired. The NRS allows the printer to continue printing without interruption by using non-defective nozzles as substitutes for defective nozzles until the technician arrives.*
* NRS may not be activated depending on print modes.
>> Click on image to enlarge it.
Ink supply unit enables long-time continuous printing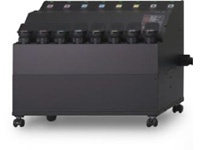 Large (3 L) ink containers are installed in an external ink supply unit. Ink can be filled into the container during long-time continuous printing. A degassing module is installed on the printhead carriage to allow the use of affordable undegassed inks.
---
Software
TxLink3 Professional or RasterLink6 is bundled according to user's request.


---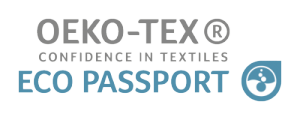 All TX500P-3200DS inks are ECO PASSPORT by OEKO-TEX® certified.