This morning our General Manager Arjen Evertse of our subsidiary in Turkey officially opened the exhibition FESPA Eurasia 2017. Mimaki will have a significant presence at FESPA Eurasia, located at stand number D20-30, held this December 7-10, in Istanbul, Turkey.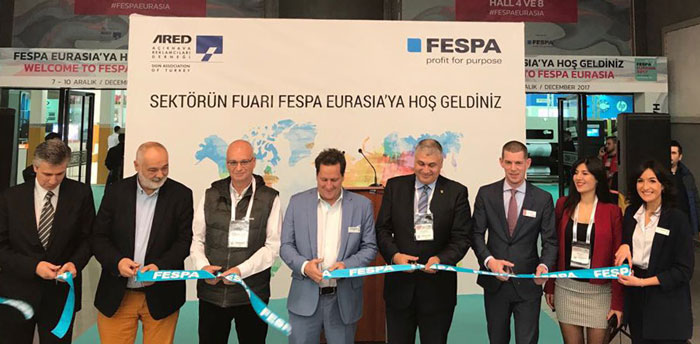 Showcasing at the show
Here at the show, we will be demonstrating for the first time in the region the new UCJV Series, with the aim of showcasing to visitors how the print-and-cut machines in the range offer users a "versatile" solution to production.
Earlier this year we unveiled the launch of the UCJV Series, roll-to-roll UV LED printing and cutting solutions. The new UCJV Series add creativity to the production of signs and display graphics, while maintaining Mimaki's signature affordability and ease of use. In bringing this outstanding solution to market, Mimaki is also introducing a brand new environmentally friendly ink, LUS-170, guaranteed to ensure vibrant, eye-catching print results.
The UCJV Series is available in two models: the four-colour UCJV150-160, and the UCJV300-160 that can accommodate up to seven ink colours in cost effective one litre bottles. Each can produce a wide variety of print-and-cut applications offered by many signage, commercial and packaging print service providers. UV-LED curing technology enables print service providers to utilise an expanded range of media including uncoated print media and many thin film substrates that may be too heat sensitive for latex or solvent high heat fixation systems. At Mimaki, we work hard to continuously bring innovative solutions to our customers and these two new systems certainly meet that objective. We look forward to discussing their endless possibilities with visitors at the FESPA Eurasia show.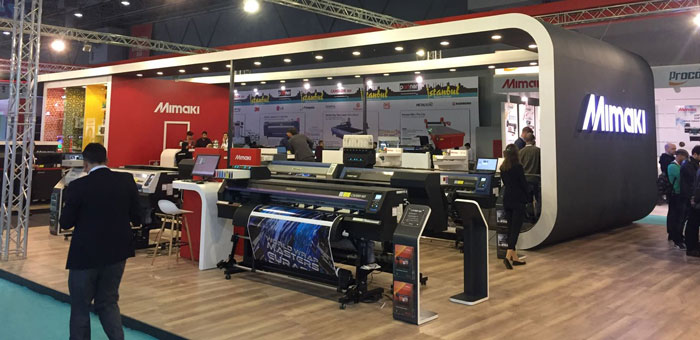 Aside from the UCJV Series, our visitors will have the opportunity to view the new Mimaki 3DUJ-553, the world's first full-colour 3D printer capable of printing up to 10 million different colour combinations with ICC profiling. The Mimaki 3DUJ-553 printer jets successive layers of ink, which are instantly cured by UV light until the object is fully formed. Fine layers accumulate on the build tray to create one or several precise 3D models or parts. Where overhangs or complex shapes require support, the 3D printer jets a removable support material. It uses LED curing for reduced energy usage and is differentiated from other 3D printers in a number of aspects, including:
The ability to print full colour objects with more than 10 million colours. Colour profiles can be used to ensure accurate and consistent colour. This means no overpainting is required, saving time and labour.
It offers white ink, as well as a clear ink overcoat that adds vibrancy to the printed product. Its clear ink can also be combined with colour ink to create half colour transparent models.
Its support materials can be removed with a simple water wash, eliminating the need to manually cut tags or other support structures.
It features a maximum build size of 50 x 50 x 30 cm, larger than comparable 3D printers.
Besides the above newest Mimaki innovations, visitors will be able to see various other Mimaki printers and cutters, such as the CJV Series, JFX500-2131, JV Series, SIJ-320UV, UJF Series (including the Kebab option) and the CFL-605RT.
Visit us at stand number D20-30!